Materials
The materials related to StarBED are stored on this page.
1. StarBED Promotion Movie (2017)
It is Promotion movie about "StarBED Project" and StarBED.
(about 10 minutes)
2. Brochures
The latest Brochure is available here.
Please click the following image to see and download the brochure in PDF.


ICT Testbed Research and Development Promotion Center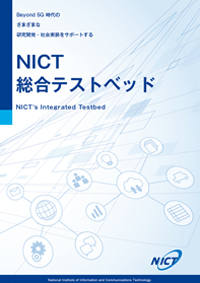 (As of November, 2018)
*:Japanese Version Only
3. Official StarBED Logo Data

As a general rule, third parties may NOT use the StarBED logo. However, under the limited circumstances, third parties may use the logo in accordance with the guidelines. See the 'StarBED Logo Guidelines'.