Access and Contact
1. Contact
Please contact us by telephone, fax or e-mail at the address below if you have any enquiries about the StarBED3 Project, the StarBED facility or this Center.
Also, please contact us by e-mail at the address below for enquiries about making a reservation at the facility.
2. Location of the Center
The Center is located in the Ishikawa Science Park and the address is given below.
If you should be planning a visit to the Center, please print out and use the PDF map which we hope you will find useful.
3. Access to the Center
Please refer to the following for information about how to access the center from all directions.
By Airplane
From Tokyo

1. Haneda Airport ---> Komatsu Airport <1 hour>
2. Komatsu Airport ---> Our Center <30 minutes by taxi>
By Train
From Tokyo

1. JR Tokyo St. --->JR Kanazawa St.
<2 hours and 30 minutes by Shinkansen "Kagayaki">
2. Kanazawa St. ---> Our Center <40 minutes by taxi>

1.JR Tokyo St. ---> JR Maibara St.
<2 hours and 30 minutes by Shinkansen "Hikari">
2. JR Maibara St. ---> JR Kanazawa St.
<2 hours by limited express "Shirasagi">
3. Kanazawa St. ---> Our Center <40 minutes by taxi>

From Nagoya

1. JR Nagoya St. ---> JR Komatsu St.
<2 hours and 40 minutes by limited express "Shirasagi">
2. JR Komatsu St. ---> Our Center <25 minutes by taxi>

From Osaka

1. JR Osaka St. ---> JR Komatsu St.
<2 hours and 30 minutes by limited express "Thunderbird">
2. JR Komatsu St. ---> Our Center <25 minutes by taxi>
By Car
Via Hokuriku
Expressway
Komatsu I.C. ---> Our Center <25 minutes>
Nishi-Kanazawa I.C. ---> Our Center <30 minutes>
Mikawa I.C. ---> Our Center <40 minutes>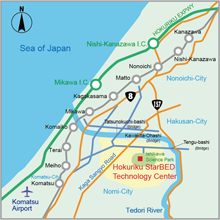 Wide area map of
the Hokuriku StarBED Technical Center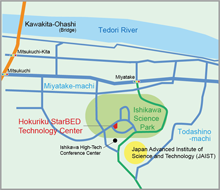 Map of the area around
the Ishikawa Science Park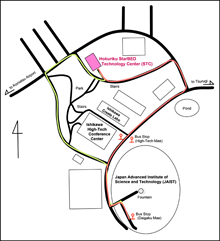 Map of the area around
the Hokuriku StarBED Technical Center