The materials related to StarBED are stored on this page.
1. StarBED Promotion Movie (2017)
It is Promotion movie about "StarBED Project" and StarBED.
(about 10 minutes)

2. Brochures
The latest Brochure is available here.
Please click the following image to see and download the brochure in PDF.


3. Official StarBED Logo Data
As a general rule, third parties may NOT use the StarBED logo. However, under the limited circumstances, third parties may use the logo in accordance with the guidelines. See the 'StarBED Logo Guidelines'.


a. StarBED Logo
The StarBED logo is designed in combination of a symbol that represents server racks housing more than 1000 nodes and a logotype 'StarBED'.



b. StarBED Logo Guidelines
The following guidelines must be followed for all use of the logo:
- Circumstances

Third parties may only use the logo in accordance with the guidelines without a license only under the following limited circumstances:
- In the StarBED utilization promotion
- Logo images
ONLY 'Official StarBED Logo Data' is approved for use. (See the 'Official StarBED Logo Data'). It includes various approved artworks and formats.
- Approved StarBED Logo artworks
The following artworks included in the logo data file are approved.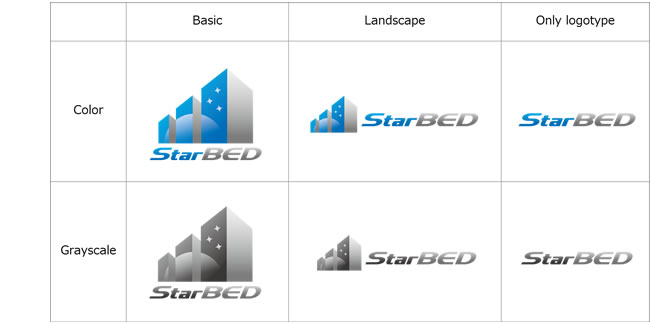 There are color artworks and grayscale ones. The grayscale artworks are only acceptable when media reproduction is limited.
The symbol may not be separated from the logotype.
Any use that falls outside of the guidelines is strictly prohibited.
c. Official StarBED Logo Data
Official StarBED Logo Data is available under the above 'StarBED Logo Guidelines'.
See the guidelines before use of it.
Official StarBED Logo Data (ZIP/18.7MB)